Father God has taken me worship painting overseas from Australia to the States, Africa, New Zealand and recently the UK and now Fiji! Each of those times has been a learning curve, little by little, almost precept upon precept.
In the beginning, I had so many questions which have been replaced as I gained understanding with deeper ones. I'm no theologian but I am an experienced artist and straddling the line between the spiritual and secular has taken some major reassessments over my time. And I'm still going! At each step of the way, there is a need for obedience. I can't say it's all been kicks and giggles but the adventure is off-the-planet amazing!
Wild Crazy Adventure With Prophetic Art
Resonate Worship Conference, Hull, England, June 2017.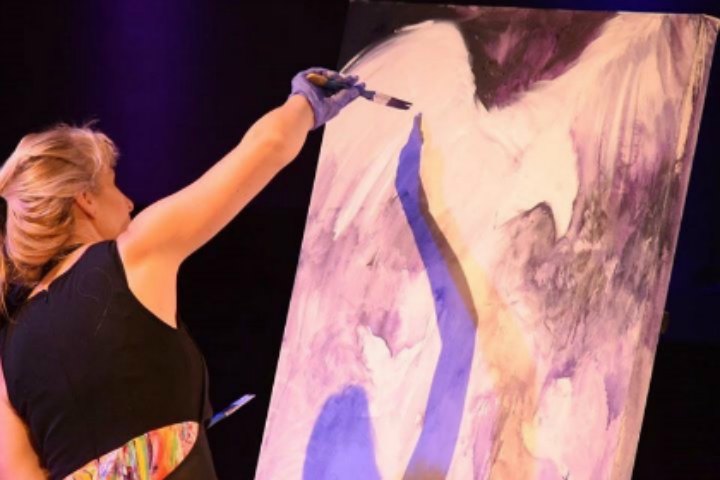 Well, here I am at the airport again, this time off to Fiji to paint at a Sounds of the Nations worship conference, having just got back from the UK three weeks ago, painting at another Sounds of the Nations worship conference.
I've had some extraordinary worship times over the years but the UK experience was one very wild, crazy adventure! Jarrod and Victoria Cooper head up several campuses in Hull in the mid north and they recently became the English directors for SOTN. They've published several books and had the hit single; "Majesty".
The senior pastors and organisers of the conference, Jarrod and Victoria Cooper, head up several campuses in Hull in the mid north of England. They recently became the English directors for SOTN. They've published several books and had the hit single; "Majesty".
The first night of the conference was an amazing treat. Held in the 800-year-old Hull minster, with millennia-old acoustics, it was an amazing event. To try to put that into words just doesn't cut it. Generations, decades and centuries of art, architectural adornments and history have gone into the building. It's awe-inspiring just being there but to have the opportunity to really worship there was stupendous.
When I say really worship, I mean off-the-charts, Holy Spirit-infused presence-of-God-so-thick kind of worship. The synergy of Roma Waterman, Victoria Cooper and Bethany Hicks with the Hull musos was something else! Each of those worshippers really knows how to enter into and bring the Presence of God but put them together and it went off to extraordinary levels. Combined with the history, the ambience and quality of worship it was an amazing experience.
After lunch, it was the prophetic art workshop time. It was here that I had the most poignant moment of the conference when a man in his seventies had a question answered that he'd been asking about for 40 years! When that kind of thing happens, it's so humbling and reassuring!
The following morning the conference started and I began a painting titled 'Not a Sparrow". 
The painting is an image of a flock of grounded sparrows, grey and ubiquitous, underneath a pair of coloured birds ascending to a white eagle above them. The sparrows represent how people can come to see themselves. Most people start out with hopes and dreams but over time, life crowds in, complacency sets in and faith for more goes out the window. In effect, they see themselves as just like everyone else; grey and monochrome rather than with a colourful God ordained assignment.
The two birds taking off represent the ones who refuse to settle for lifelong mediocrity. The white eagle is the supernatural calling us all to the extraordinary.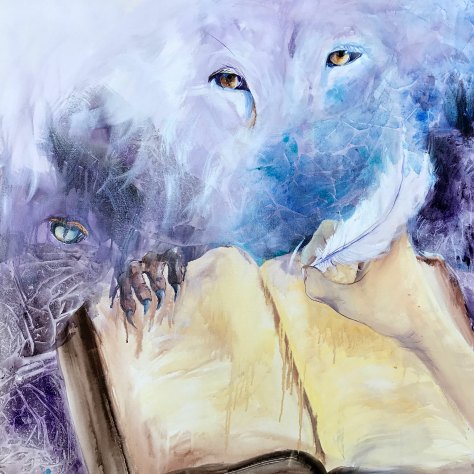 The evening painting was titled ' Write it Right'. It depicts an open book with a large hand writing in it. The book is your life and the left hand page is the past. Looming over the edge of it is a nasty creature with long claws representing the robbing that everyone has had in their lives. The hand using the full to write on the right hand page is the person who can choose to leave behind the past and write the rest of their lives according to God's authorship. the Lion of Judah hovers over that right side of the image.
The next morning was the church service. I'd been really asking God for a supernatural impartation into my painting. I've been painting now for some years and I have seen Holy Spirit events intermittently but now I want to step up. I want to create works that God breathes on. I'd asked a lot for that and thus far in the conference, it hadn't happened so my expectation for the morning was high and I wasn't disappointed.
It was as if worship had been building all weekend and now it went to new heights. The whole front of the auditorium was full of people worshipping with their whole hearts. The energy was palpable.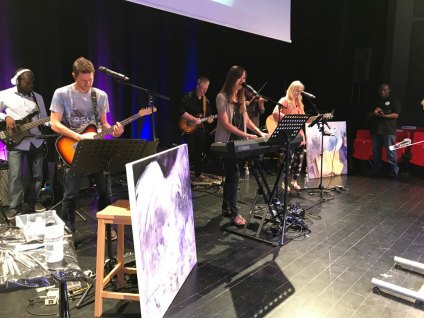 When I'm in worship like that, I find it impossible to stand still, doing my version of dancing while painting. Actually, it's more like jumping up and down but my heart's in the right place! During such times are when I'm really alive. My painting becomes very loose though and I only do large flat areas when I paint.
I was painting a large colourful eagle flying over the centre of Hull. The eagle was coloured to represent the supernatural being released over Hull.
I find it hard to put into words how I felt doing that work and especially afterwards. I felt such a strong sense of the anointing all around me which kept seeming to come in waves. And when I sat down, I was completely spent! But boy was it worth it!
I can't say that I'm completely happy with any work I did during the conference as I didn't have time to refine any of them afterwards. Usually, I'll spend time in the studio tweaking and finishing a work before it's ready for publication but as I needed to fly out shortly afterwards and I had no studio to work in, that wasn't possible. I took a lesson from that and this time I'm aiming to do one better work rather than 3 separate less polished works. I have had tremendous successes in a single painting session in the past but it can't be relied upon each time. But that's a topic for another post.
I came away from Hull with such a sense of having had a wild, crazy God adventure, it's enough to propel you forward with high expectations to the next one!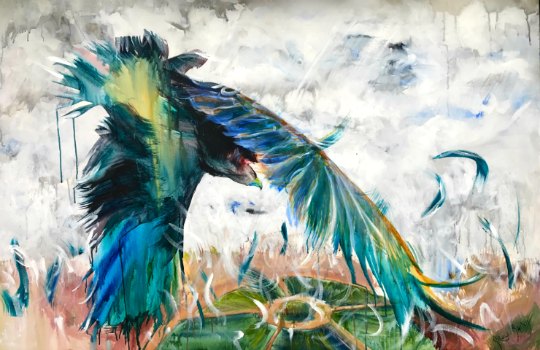 More to come, stay tuned!
Fiji Sotn worship conference, July 2017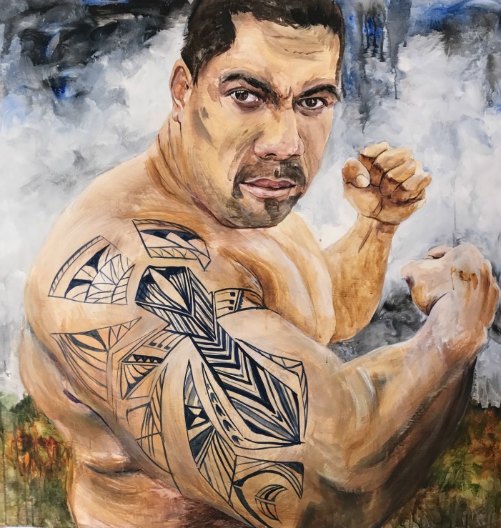 This is the 120cm x 120 cm or 4' x 4' painting I did in Fiji, titled "Call to Fijian Warriors". Initially, I was very reticent to paint it. I'd never been to Fiji before and didn't know what to expect. Were they a peaceable people or something else entirely? How would they receive a painting like this? I could end up with egg all over my face! I wasn't at all sure that this was the right God-image. As well, as all prophetic art should be either exhorting, comforting or edifying, I wasn't too sure that this fitted the bill.
However, the image painted as God's prophetic paintings must be what He wants to relay, not what I think would fit.
I've learnt, however, that I have to go with what I think God is saying to paint so off I went.
From the moment I arrived, I started getting confirmations that it was the right one.
I painted the same image over the three days of the conference, far from certain that it would work as an image or as a successful painting.
The temperatures each day were over 30 degrees which meant the acrylic paint had to be kept moist so it didn't dry out on the palette. It also meant that the paint was almost dry as soon as it went on the board which is great for my drippy style.
I had the privilege of teaching workshops but we needed a lot more time! Heaps of fun though and super keen students!
I also had the opportunity to speak at two sessions. The first was the nine types of prophetic art and the second was a story of a turn-around.
A Wild Crazy Adventure painting all over the world