This was my challenge. It was all new.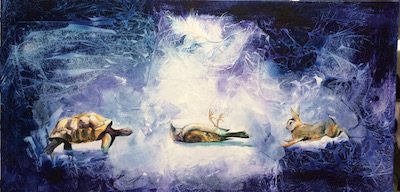 This type of painting is an exhortation or a call to do something.
Our church had started to see glimpses of signs and wonders and Holy Spirit movement. We'd had a couple of lots of gold dust and had had some amazing God encounters. There was a general air of excited expectancy in the church about the movement of the Holy Spirit (or so I thought), then one night during worship God showed me that there were some different reactions to this in the church. The first was that of a tortoise who took one look and retracted into his shell away from it. The second was that of a dead or sleeping bird with its feet in the air in complacency, and the third was a rabbit running.
The work I created from that scene was a call to action for the church. The move of the Spirit is denoted by a large feather across the top (which various people have seen appear), and the animals are arrayed below it in the various stages of action.